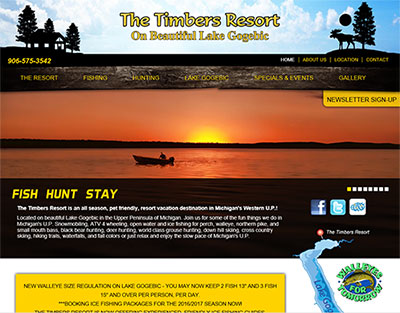 The Timbers Resort website is a terrific example of our veteran experience in creating a site for the hospitality industry. The main goal of the website was to speak to the outdoor enthusiast looking to book a one-of-a-kind trip. In working with owners Sarah and Tim Long, it was important that NuTerra executed a high caliber site that would operate on any mobile device platform with the ultimate goal of displaying a uniquely branded message of hunting, fishing, and loving every day at the Timbers Resort. NuTerra accomplished this by creating forms for booking reservations, detailed cabin galleries, an evolving home page banner that changes depending on the time of day, and a gallery that can be edited and easily managed by the client. In addition we integrated Tim's Eyes-Guy Facebook page for regular updates on the fishing conditions and wrote quality content descriptions for many pages. We also worked on creating a new page that would invite users to shop at the new Timbers Bait & Tackle Shop for all of their fishing needs. In addition various SEO techniques were essential in helping to ensure we did our best to help them stand out from the competition. It is with great pride that we delivered and created a visually stunning site that highlights what guests can experience on legendary Lake Gogebic at the Timbers Resort.
As Owners of The Timbers Resort on Lake Gogebic in the Upper Peninsula of Michigan we receive many calls every day from Companies trying to sell us "something". Most of these calls are nothing but a nuisance and always seem to come when we are extremely busy. It was around mid May that I picked up the phone and on the other end was Amanda Kurowski with NuTerra LLC & Viper Tackle. This phone call has changed our lives and The Timbers Resort is so many positive ways. My husband Tim spoke with Amanda and within a week we had Amanda and Frank Sterzinger come to visit us at The Timbers Resort to go over our website needs and browse through our Bait and Tackle Store. We had been struggling for the last couple of years with the current web hosting company that we were working with for our website design and hosting. During this time we were losing visibility on the search engines. After taking several months to build our main website and getting it live we had waited 18 months for our Guide Service website never to be completed before we started and launched two websites with NuTerra. The key to this working relationship is that Frank and Amanda came to The Timbers Resort for a site visit where they listened to what we wanted. We cannot say enough about the customer service that NuTerra has provided, the professionalism, and the detail of content in such a short amount of time. This one phone call in the middle of May was the Best cold call I ever received.
We would recommend NUTERRA to anyone and everyone!
Tim & Sarah Long
Owners of The Timbers Resort and Eyes-Guy Guide Service